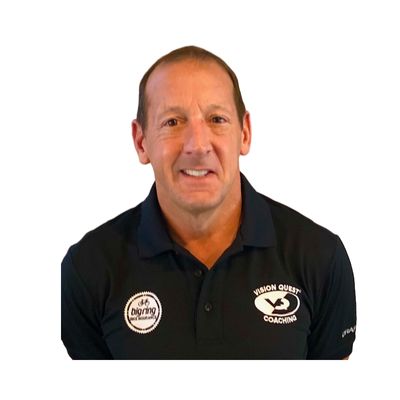 Ron Dorneker
Ron Dorneker has joined Vision Quest as a Coach in 2019 after a 31-year career with the Chicago Fire Department (CFD). Ron brings to VQ over 40 years of water rescue and open water swim experience and over 30 years of triathlon experience. During Ron's career with CFD and throughout his triathlon career, Ron has always made "continuous improvement" his mantra. That mantra led him to become a VQ member in 2013 and then join the VQ Coaching Staff where he brings his unique brand of enthusiasm and consistent forward progress. Ron believes this approach also helped him kick cancer in 2006 and he has since "coached" numerous cancer fighters on their paths to recovery through athletics, nutrition and the right attitude.
As part of CFD, Ron led the Marine and Dive Operations from 2001 to 2018. In that position, Ron was responsible for all water rescue throughout Chicagoland and was charged with training over 130 fire department Special Operations personnel through a rigorous, structured and principled training regime, which included the highest level of attention to detail.
Ron has always been involved with water sports, training, and safety and worked for the Chicago Park District – Beach and Pool Unit as a lifeguard and swim coach from 1979 to 2002. During this time, Ron coached age group swim teams, water polo teams and taught swim lessons for all ages.
When it comes to triathlon, Ron's achievements are numerous. He began racing Olympic distance triathlons in 1986. He first qualified for the Ironman Triathlon World Champions in 1992 at his first Ironman distance attempt and has qualified and competed in a total of 16 World Championships as well as 10 other Ironman races and numerous Half Ironman races. His Ironman PR is 09:35, but Ron will be the first to say that it's not about the time, but the total experience. Ron also has been named a USAT All-American over 10 times.
Ron's awards and achievements include the following:
16-time Ironman Triathlon World Championship Hawaii Qualifier and Finisher (Kona, Hawaii)

All-American, United States Triathlon Association

Gold medalist World Police and Fire Games

USLA National Lifeguard Championship Competitor

Eagle Scout, Boy Scouts of America

Illinois Firefighter Medal of Honor

City of Chicago Award of Bravery

Chicago Fire Department Award of Valor

Chicago City Council Commendation for Bravery

United States Lifesaving Association Heroic Act Award

Chicago Park District Award for Heroic Action

Humanitarian of the Year Award Anti-Cruelty Society

Lifeguard of the Year, Chicago Park District
While Ron's passion for sport is unparalleled, his most significant loves are his wife, Lainie, and their two children, Amanda and Noah.