Metabolic & Blood Lactate Testing
Understanding and Pushing Your Limits
Learn the key ingredients to use your training time efficiently to raise your best to a higher level
Vision Quest Coaching is the exclusive Midwest partner with INSCYD, a revolutionary test that breaks down an athletes' performance and allows us to provide a more accurate and efficient training program.
Power zones, functional threshold, and heart rate are only some of the metrics to focus on when honing in on your training program. Metabolic/Lactic testing helps athletes find their strengths and training limiters to create a more complete performance report like never before.
The performance you are looking for is composed of a variety of components and metrics, but if you focus only on FTP/power output or heart rates zones, you'll miss out on accuracy and efficiency.
The Bottom Line:
Why you need to complete an INSCYD Metabolic/Lactic Threshold Test:
Your metabolic test will help you to identify your individual rate limiters and the specific areas of your physiology you need to sharpen to achieve your goals.
You have access to a test that's no longer just for the pros. It's for anyone that wants to train smarter, not harder - everyone!
Insights into your metabolic efficiency to properly fuel your body for maximum performance.
Assessment takes less than 1 hour to complete at our Vision Quest Highland Park location
METABOLIC ASSESSMENT | $250
Fuel the Fire
To achieve maximum performance we need to accurately understand how each individual athlete performs at the highest efficiency
WHAT ARE THE KEY BENEFITS OF A METABOLIC/LACTIC THRESHOLD TEST?

PHYSIOLOGY BREAKDOWN
Provides you with a comprehensive look at the layers of your physiology that enable your actual performance.

STEPS TO IMPROVE
Explains what your performance is composed of and what you can do to increase it.

HELPFUL PREDICTIONS
Lets you project future performances based on training improvements.

PERFORMANCE INSIGHTS
Understand the interaction between your aerobic system and your fueling needs so you can answer "How much should I consume per hour in order to maintain my performance?".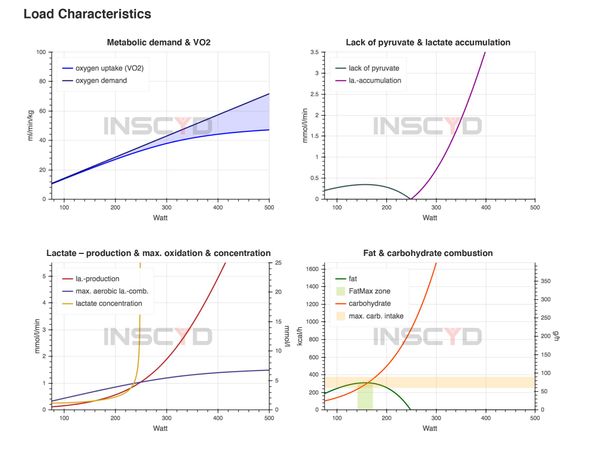 THE RESULTS
INSCYD takes into account and connects the most important metrics from your Metabolic/Lactic Threshold test for training purposes:
VO2max – maximum aerobic capacity

VLamax – maximum glycolytic (anaerobic) capacity

Anaerobic threshold and how it is composed

Accumulation of Lactate and how quickly you can recover from it

Fat combustion rate across intensities and FatMax

Carbohydrate combustion during training & racing across intensities

Economy – how much energy you need at a given speed
Each of the above metrics is measured by INSCYD and is critical for your performance. Remember: each sport performance is predictable and can be broken down into these fundamental elements.