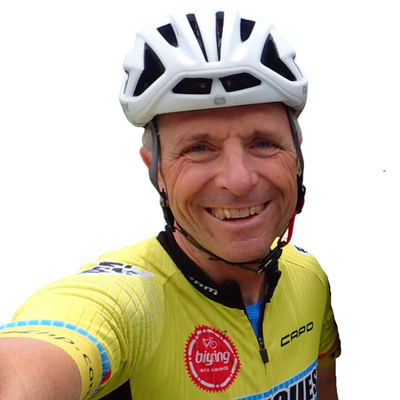 Randy Warren
Current Residence: Asheville, NC
Degrees: B.A. English/Communications, M.A. Education
Colleges: Hope College, California Polytechnic State University - San Luis Obispo
Certifications: USA Cycling Level I Coaching
Specificities: Cycling (Road, Gravel)
What Location Do You Train At: Remote
Why Do You Coach? I believe in focusing on athlete's goals and then helping to maximize potential within the context of life demands to achieve best possible outcomes. With a master's degree in education, counseling and guidance, I understand how to work with athletes in the context of their total life to achieve athletic and life success.
Personal Achievements: A 3-time masters national champion himself, Randy continues to race at a national and international level, most recently winning 2 stages and finishing 3rd overall at the 2023 International Giro d'Sardinia (Italy). Some highlights:
2022 Masters Gran Fondo National Champion

2022 Masters e-Sports National Champion
2005 Masters Track National Champion
1994 Master Road World Championship Stage Winner
2003 Silver Medal Masters Track Nationals
2023 3rd place Giro d'Sardinia (2 stage wins)
20+ time National Championship medalist
Multiple State Championships on Road, Track and Cyclocross in California and Illinois
Masters Athlete Representative to USAC Road Committee
President of USA Cycling, Collegiate Board of Trusties
Chair, National Collegiate Cycling Association
Committee Member, National Collegiate Cycling Association
Athlete Representative, National Collegiate Cycling Association
1995 Masters All-American Team
Collegiate cycling, wrestling and track
Multiple marathons
Why Do You Work for Vision Quest Coaching? Randy was the original coach at the VQ Bucktown location (2005) and, since then, has worked with athletes, helps run camps and coached clinics for VQ. Having been a cycling coach since 1987, Randy has been a USA Cycling Level 1 coach since 2005 and has helped hundreds of athletes meet their cycling goals.