Member News
February 16, 2020
Special Announcements
We're heading into Week 12 of the Off-Season Challenge! Want to follow along? We'll be posting our weekly challenges on our OSC webpage. Click here to check it out!
NEW for Madison Rides in 2020! We've added another ride to our Madison Ride series AND a 3-day training camp options available in July & August that are great options to add more tri training volume while you're in Madison. Stay tuned for registration details and save these dates!
June 20th
July 18th - training camp option!
Aug 22nd - training camp option!
Folks on Instagram! Make sure to give Robbie a follow @robbieventura for an inside look at some of our weekly rides...and more!
Your VQ Locker Room You've received an email about entering your Locker Room where you'll be able to see your VQ rides on the new software and connect to Training Peaks/Strava. If you haven't or are having issues reach out to vq@visionquestcoaching.com. Click here to access your Locker Room.
VQ Members Discounts:
Enjoy 20% off your TrainingPeaks premium subscription for up to 1 year. Code: VQ20163
VQ Outdoor Ride Weather Protocol: Outdoor rides will be canceled if...
Rain: If it is raining or if there is a 50% chance of rain forecasted for the ride start
Temperature: the forecasted temperature at ride start is under 25 degrees
Our reference will be the Dark Sky app for Highland Park, IL
WEEKDAYS
VQ Highland Park
New Classes Added!

Mon 530am Endurance 90 min, Intensity A

Tues 10am, 4:30pm, 6:00pm Intensity A

Fri 530am Intensity C, Endurance 90 min
VQ Chicago
New Class Added! Wednesday 6:00 PM Small Group Strength Training Class starting this week.
Wednesday 5:00 PM Treadmill Run with Ron Dorneker
VQHP Swims at LFA
Tues & Thurs 5:30 am - 6:30 am
Sun 7:00am - 8:30am
22 | SAT
STAY TUNED FOR AN OUTDOOR RIDE WEATHER UPDATE
VQ Outdoor Gravel Intensity Ride:
Ride Goal: Intensity
Start Location: VQ Highland Park
All PtW Ratio Start: 7:30am
Ride Length: 2 hours
Sign up on the website calendar
VQ Chicago Indoor Rides
VQ Highland Park Indoor Rides
Saturday: Intensity C & Course Ride
6:00 - 7:00 am
7:15 - 8:15 am
8:30 - 9:30 am
9:45 - 10:45 am
11:00am - 12:00 pm
23 | SUN
STAY TUNED FOR AN OUTDOOR RIDE WEATHER UPDATE
VQ Outdoor Gravel Endurance Ride:
Ride Goal: Endurance
Start Location: VQ Highland Park
All PtW Ratio Start: 7:30am
Ride Length: 2.5 hours
Sign up on the website calendar
VQ Chicago Endurance 2 Ride
7:00 am Endurance Ride
VQ Highland Park Endurance 2 Ride
6am, 8am, 10am Endurance 90 min, Course 2 hr
The VQ Indoor Ride Experience
VQ Indoor Rides: Becoming Better Bike Riders
Double Arm Backstroke Drill
LOOKING AHEAD
A sneak peek at what's coming up at Vision Quest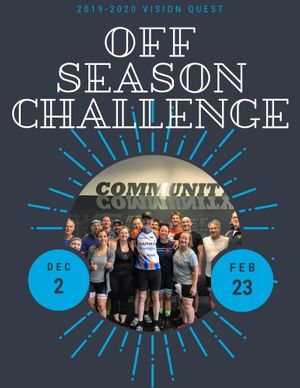 February
2.5 & 2.8: Stage Event
2.23: OSC Ends
2.29: OSC Wrap-Up Party
TBD: VQ 20th Anniversary Celebration